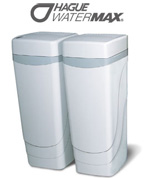 Hague WaterMax
The innovative leader representing over 40 years of engineering expertise! You would need up to four conventional tanks to accomplish what WaterMax can do with one for utility grade water, working grade water and food grade water. This system works for utility grade, working grade and food grade water. WaterMax regenerates on demand, by calendar or by exact water usage. It has earned 9 US patents and is powered by an Energy Star™ qualified adapter for a better environment! This system is backed with a 25 year warranty.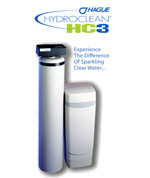 Hague HydroClean HC3
Patented water treatment equipment engineered for reliable operation and money saving efficiency!
Aquaphor RO-100
Next generation water RO technology. The Aquaphor RO-100 uses 50% less water during the filtration process and has a 50% smaller foorprint than other, similar systems. Replace your premium bottled water and save $100s!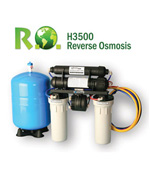 Hague WaterMax RO H3500
Designed for maximum water cleaning efficiency with the only operating cost being periodic replacement filters. This system works on water pressure as low as 30 psi and has up to 33% more tank pressure for stronger flow and volume! This system fills the holding tanks up to five times faster than similar systems while removing up to 99% of total dissolved solids. The Hague WaterMax RO H3500 also includes a long reaching spigot for dispensing and is completely pre-tested.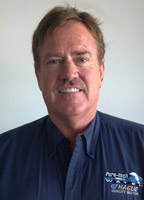 Brad Jones, Owner
Comparison
Most people don't fully understand the major differences in water systems. Before you invest in a water softener system, we want to make sure you understand the differences between Hague WaterMax and standard water softeners. The first major difference is the design, the WaterMax has three separate compartments that enable the unit to adapt to any environment, and the conventional water softener only has one. Besides the compartments, there are a number of significant differences between the Hague WaterMax and conventional water softener systems.
Standard Water Softener
A salt based system
A simple salt exchange tank designed ONLY to soften water utilizing 30-year old technology and design.
The same media is used throughout the country through water quality and hardness varies everywhere.
Single compartment tank with resin sometimes MIXED with other media. This can render the media inert after a short time.
Uses synthetic resins that soften water by an INEXACT ion exchange. This requires more salt and water for each cleaning cycle. Also, potassium chloride (KCL) is not recommended.
>Excess salt is harmful to pets, plants, humans and environment.
Not designed for internal disinfection. This will often promote bacterial growth within the tank.
Most systems feature 5/8" internal plumbing or restrictors which REDUCE water volume and pressure.
Uses a 3/16" fiberglass wrapped tank with plastic or brass valve that screws into the top of the tank.
Majority of companies use components from several manufacturers and just stick on their own label.
The average cleaning cycle is every three days using 10-15 lbs. of salt and 60-100 gallons of water. Approximately 1000 gallons of water and 100 lbs. of salt per month. Because of their water waste, softeners have been banned in several communities.
The comparison above reflects the performance and design of the majority of water softening, conditioning and refining systems. Some may be slightly more or less efficient. Ask for a manufacture's brochure with actual specifications.
Hague WaterMax
A truly Salt Free system
Commercial grade, state-of-the-art technology, especially designed for maximum filtration, disinfection AND softening.
Computer controlled and monitored. Internal media's engineered specifically to treat Las Vegas water.
A patented multi-compartment tank with directional flow screens separating the filtration and softening medias.
Organic resin softens water with an EXACT ion exchange, and removes harmful inorganics and heavy metals. Also, converts potassium chloride to a healthier potassium chloride to a healthier potassium bicarbonate.
Potassium stimulates growth, promotes health. Earth friendly.
Employs state of the art REDOX principle (which creates ozone) for continual and complete internal disinfection of the tank.
1 1/4" plumbing allows more volume of water (greater flow rate), for greater treatment efficiency without effecting water pressure.
Uses 3/8" thick industrial aircraft grade ABS tank and valve head which are molded as one unit for trouble free performance.
All components and complete units are designed and manufactured in the USA by Hague Quality Water International.
The average cleaning cycles is 3 times a month using only 17 gallons of water and 5 lbs. of potassium chloride. Approximately 50 gallons of water and 15 lbs. of KCL per month. By far the most efficient, cost effective, earth friendly system available.
The WaterMax represents a technological breakthrough in residential water treatment with many more unique features than listed here. Speak with our highly-trained HAGUE water specialist for more details and a demonstration.